Book a short term accommodation in any Australian prime city and you will find there an awesome kitchen that could inspire anyone to cook and prepare delicious food. This is because Australia is home to many top commercial and residential kitchen providers that deliver the best kitchen solutions whether modern, traditional or contemporary kitchen to any commercial establishment including short term accommodations. Here are some kitchen designing trends that found their way to top short term accommodations in Sydney and across Australia.
Good design in small packages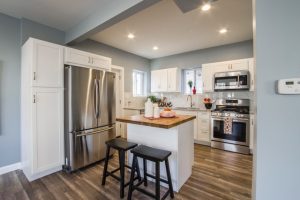 Luxurious short-term accommodations usually go for hotel-like kitchen in their units. Unlike the hotel's kitchen, the design goes for limited space. A two-bedroom unit usually has a kitchen design where a significant portion of the space is around storage than cooking. There is a countertop that accommodates the convection oven and the hand-wash sink and coffee-brewing equipment and under-counter storage to keep much of everything under the counter. The contemporary kitchen puts importance to the small pantry where everything can be stored and prepared.
Full-service kitchen
Short term accommodations that cater to the large groups go for full-service kitchen design. This design has preparations, cooking and serving are done in one central area. It also goes for multi-purpose equipment applying technology to integrate everything into one. Australian kitchen design companies ensure all components that need to be there would find its way into the kitchen while maximizing space. Installing the best quality products is also the rule of the thumb for long service and for cost-efficiency.
Kitchen designing involves creative flair and practicality. It also incorporates elements such as spaciousness and sustainability. With the modern lifestyle, the kitchen area becomes part of the living room where food is prepared, cooked and served and enjoyed not only in traditional seated arrangement but more of freestyle sitting.  Kitchen designs also support the "green idea" where fixtures are supporting a sustainable environment. Manufacturers are with environmental standard certifications for environment safety. Most modern designs and kitchen renovations now use modular interior accessories that support individual storage and organization needs.
Kitchen designs and renovations in Australia are constantly updating their industry with the latest trends in kitchen designs and kitchen solutions to cope-up with the emerging changes in lifestyle and taste of consumers. If you are a hospitality business and thinking of upgrading your traditional kitchen to contemporary kitchen, call or visit a kitchen designing and kitchen solution provider and see how they can make your kitchen idea come into reality.
Providing the Latest Kitchen Solutions to Short Term Accommodations

,